And what a year it has been!
And so, Parents, Teachers and Pupils we have reached the end of another school year. A year like no other!
We were so delighted to get back to school last August, we took all the new rules and regimes in our stride. In a couple of weeks, we had got used to the no sharing, separate bubbles and pods, playground zones, cleaning and sanitising. We were up and running and happy to be back.
Then after Christmas 2nd school closure hit us. We were back to remote learning, emailed lessons, zoom calls, seesaw. Parents, teachers and children trying their best, but it's not real school. We were so delighted to get back into school in March.
But it has not all been bad. We have had fun, we have learned, we have developed some habits that will stay. We all think the learning boxes are a great idea, zones in the yard definitely work well and we have adapted some of our usual traditions.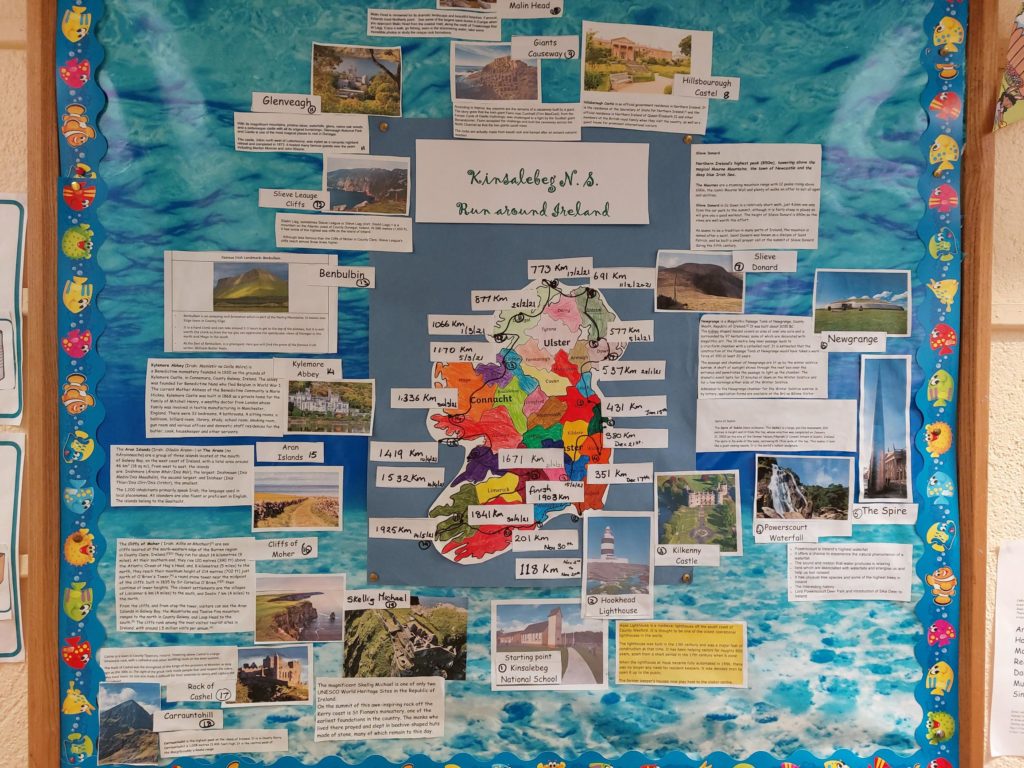 We may not have had interschool matches this year, but we have completed our Run around Ireland, a total of 1903 Km. We have virtually visited the most scenic places in Ireland, From Hook head to Blarney Castle, but the visiting the Giants Causeway, Arran Islands and Skellig Michael on the way! I must say that the Kinsalebeg students are amazing, and while there may be national issues with obesity and fitness levels, we don't see that in our school. Well done everyone.
Instead of a school tour this year we had our school beach day. No busses, just dropped to the beach in the morning instead of school. The children loved it, a trip to the playground with friends, exploring rock pools and beach combing. Discovering the history of St Declan and the Round Tower. And the sheer joy of digging a big hole and building a sand castle. And of course the ice-cream truck!
We had the Fun Academy arrive to do Sports Day and again just the simple games and sports, but out of class on a sunny day. Joy! We even got our photos taken by drone.
We know this has been a very different 15 months, maybe the test results are down a bit on previous years, but everyone is in the same boat.  We hope that 21/22 will be more 'normal' and that we get to stay open for the full year. We would welcome some more interaction between classes and friends, but whatever 21/22 throws at us, we will get through and enjoy being in school. Have a lovely summer, enjoy the break and we are all looking forward to seeing you all again at the end of August.